What to see in Siena (Italy) and surroundings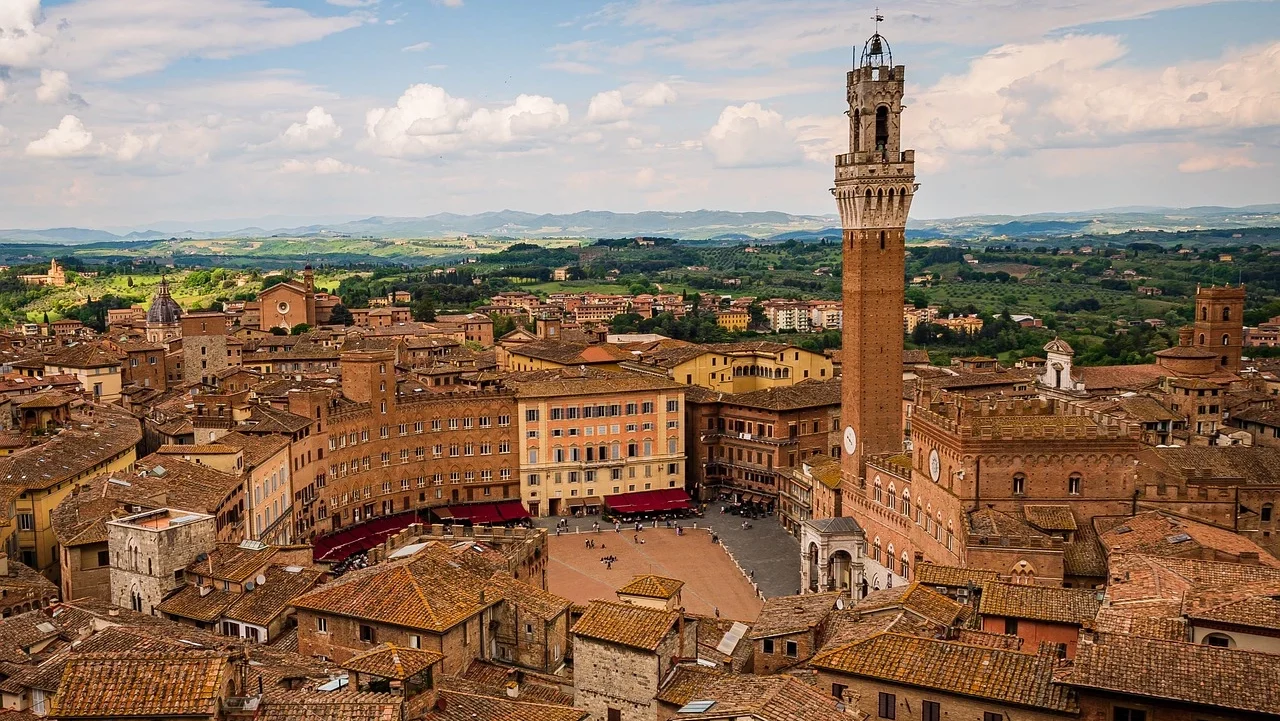 Siena, a charming medieval city located in the heart of Tuscany, is a must-see destination for any traveler visiting Italy. Known for its beautiful Gothic architecture, delicious food and wine, and rich cultural history, Siena has something to offer for everyone. Let's now explore some of the top things to see and do in Siena.
Things to do in Siena
If you're wondering what to see in Siena, there are plenty of options to choose from. Here are some of the top attractions and activities to consider.
Piazza del Campo is the main square in Siena and one of the most beautiful public spaces in Italy. It is famous for its unique shell-shaped design and is surrounded by stunning Gothic buildings. It's a great place for people to watch, relax, and take in the sights and sounds of the city.
Siena Cathedral is a magnificent Gothic church that is widely regarded as one of the most beautiful cathedrals in Italy. The cathedral is filled with incredible works of art, including sculptures by Donatello and a stunning mosaic floor that depicts scenes from the Bible.
The Civic Museum is located in the Palazzo Pubblico, the town hall of the city. The museum contains a wide range of artwork, including frescoes by Ambrogio Lorenzetti and Simone Martini. It's also home to the famous "Maestà", a large altarpiece by Duccio di Buoninsegna.
What to do in Siena in a day
If you have limited time to spend in Siena, it's important to prioritize your activities to make the most of your time. Here's a suggested one-day itinerary you can follow.
Start your day by visiting Siena's Cathedral and take your time admiring the artwork. After visiting the cathedral, head to Piazza del Campo for lunch. There are plenty of great restaurants and cafes around the square, so you're sure to find something that suits your taste.
After lunch, visit the Civic Museum to see some of Siena's most important works of art. You can easily spend a few hours here, so plan your visit accordingly. In the evening, take a leisurely walk through the streets of Siena, taking in the sights and sounds of the city. If you have time, consider visiting a local winery to sample some of the region's famous wine.
Siena Horse Race
The Palio di Siena, or Siena Horse Race, is a world-famous event that takes place twice a year in Piazza del Campo. The race is a traditional competition between the city's 17 contrade, or districts, and involves jockeys riding bareback around the square. The event is steeped in history and tradition and is a must-see for anyone visiting Siena.
Exploring Montepulciano and San Gimignano
Montepulciano and San Gimignano are both located in the province of Siena and are well worth a visit if you have the time.
Montepulciano is known for its red wine, which is made from the Sangiovese grape. The town is surrounded by vineyards and offers plenty of opportunities for wine tasting.
San Gimignano, on the other hand, is known for its well-preserved medieval architecture, including its famous tower houses. The town is also home to a number of great restaurants and shops, making it a great place to spend a day or two exploring.
Siena is a beautiful and historic city that offers plenty of attractions and activities for visitors to enjoy. Whether you're planning a day trip or a longer stay, be sure to include some of these top attractions in your itinerary.