Lucca Summer Festival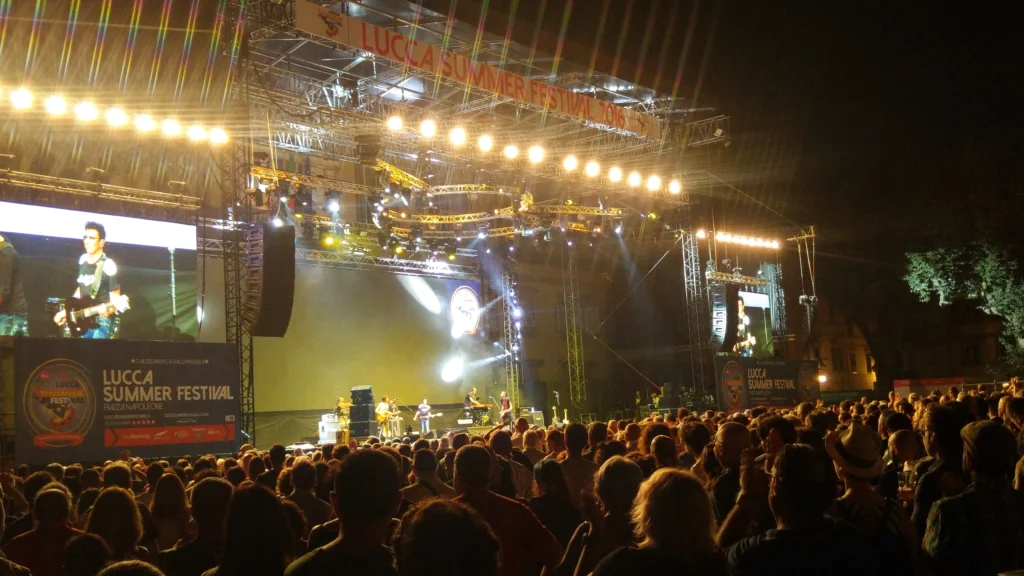 The Lucca Summer Festival is a music event held every July in the city of Lucca since 1998. The event attracts many visitors from all over the world every year, who come to Italian composer Puccini's birthplace to attend concerts by big names of contemporary rock and pop music.
A festival of big names
Many famous artists have set foot on the stage of the Lucca Summer Festival, big names in international music. Among the best-known Italian singers, we can find Laura Pausini, Pino Daniele, Giorgia, and Zucchero Fornaciari. As for international artists, David Bowie, Bob Dylan, Jamiroquai, Seal, Ray Charles, Eric Clapton, Elton John, Anastacia, and Green Day are just a few of the stars that have performed in Lucca over the years.
The Rolling Stones and the Dave Matthews Band
On September 23, 2017, the Lucca Summer Festival hosted the Rolling Stones concert. It was the only Italian date of the No Filter European tour, and it registered a record attendance. About 55 thousand people attended the event, so the stage had to be moved outside the city walls for the first and only time.
Another noteworthy year for the Summer Festival was 2009, when the Dave Matthews Band performed in a live concert lasting more than three and a half hours, the longest show of their career. The DMB Europe 2009 box set originated from that concert.
In the picturesque setting of the medieval walls
Traditionally, the Lucca Summer Festival concerts take place in the city's historic heart, Piazza Napoleone, the city's main square, also considered "Lucca's urban living room." The square is a real jewel enclosed within fascinating medieval walls, declared a UNESCO World Heritage Site. A particularly charming place, which is well suited to host the most anticipated musical event of the year.
In cases of particular turnout, the festival is held inside the Porta Elisa soccer stadium or the Stadio dei Pini in Viareggio.
The Lucca Summer Festival full of must-see concerts featuring the music stars of the moment.
If you plan to attend the next edition and do not live in Lucca, you can book a stay at our Guest House L'Antica Bifore. You will have the privilege of staying inside a historic tower dating back to the 12th century, which encapsulates the medieval charm of this magnificent Tuscan city. We are located right in the center, just a short walk from Piazza Napoleone and the Lucca Summer Festival Stage.